diary of an ultra-runner: marathon des sables
Neil Orvay, co-founder of Hong Kong's Sense of Touch spas, shares the sun, sand and sweat of running the Marathon des Sables 2014.
During the six days of 250 punishing kilometres across The Sahara he raised money for cancer research and learned to appreciate the small things.
WHY ULTRA-RUN?
I wanted a personal challenge. I'm not a natural runner, and started doing ultra marathons to give myself an annual goal, and probably as part of a mid-life crisis. The first was Trailwalker in 2009, which I've done four times now. In Hong Kong many of my friends in their late 30s and early 40s did this, so ultra-running was a natural step.
ULTRA-INSPIRED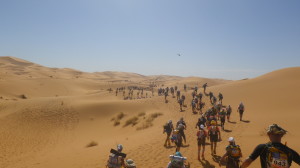 At a Royal Geographic talk ultra-runner Derek Kwik said that you shouldn't just run when you are feeling good and well rested. Just because you are tired or your stomach is not good, that's no excuse. When you do these ultras, you'll go through all those emotions and feelings. So, they are actually reasons to get up and train.
The other thing that resonated a lot with me was a book called Born to Run, probably the single most inspirational book I have ever read. It's a book for life, not just running. I love this quote: "You don't stop running because you get old, you get old because you stop running." I think that's a metaphor for many things in life.
FITNESS+DIET TRAINING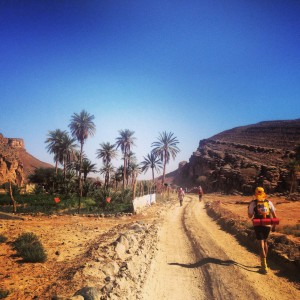 My first training run for Marathon des Sables was on New Year's Day in St. Petersburg, in minus two degrees. It was absolutely fantastic. You don't sweat, you can just run forever. I ran 20ks and I left feeling I had done nothing. Brilliant.
My regular training was on Hong Kong's trails – double Twins (12k with lots of steps) or a loop of 25k around the Hong Kong Trail. In a normal week I was doing no more than 60k but occasionally I went up to about 120k.
For the Marathon des Sables I also changed my diet, I went high protein, I didn't touch pasta, rice, bread, potatoes or dairy for six weeks and lost a kilo a week. The first time I did Trailwalker's 100ks I couldn't walk for two days. Literally I was destroyed. The second time I used compression tights straight afterwards for recovery and was fine. I also use a Suunto Ambit 2 but if you don't want to spend thousands on a GPS watch just download Strava. It's the best app I have tried.
ULTRA ADRENALINE RUSH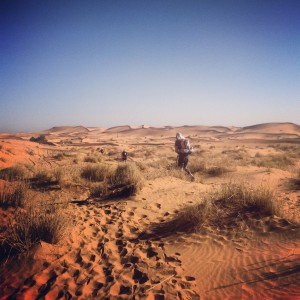 The Marathon des Sables is quite unique. It's like a rock concert. On the starting line on the first day everybody is so pumped up with adrenaline, and the atmosphere is literally as if you are waiting for the Rolling Stones to come out on stage. Every morning as you cross the start Highway to Hell is blasting out at nightclub volumes.
What experience it is trying to tell you is – don't run, pace yourself. You are full of adrenaline, everybody else is running and you don't want to be at the back of the pack. But you need to start slowly and finish strong.
Anybody who has done Trailwalker will get this; once you know how far it is to get to the top of the current peak you get an extra 10% just with the knowledge that you are almost there. But when you don't know the trail, it's much more difficult because you are conserving energy.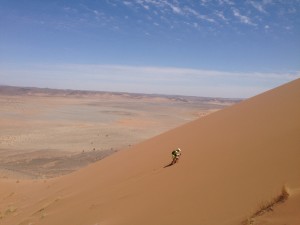 The mental side is critical, it's actually more important than the physical because as long as you are putting in the miles, and you are comfortable and strong, then you know that physically you can do this. But mentally, you don't know what is going to happen over 250k.
The one thing I tried to do is never stop. Stop at a checkpoint but never stop during the race, because every step is a step closer. Once you stop, you'll stop twice, three times, so just never stop.
SUN, SAND; MORE SUN, MORE SAND…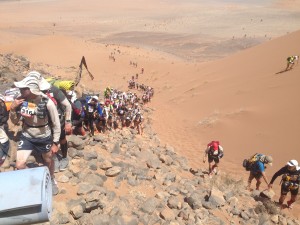 After the event all I remember is the glory, but the reality is something terribly different. It is really tough, you are pushing yourself to the absolute limit. I am really happy I recorded a 45-second video on the long day (click here to view), which was two marathons back-to-back. You can hear the raw effort. I took it when the sun was finally coming down having made it through the worst part of the day. And the scenery is spectacular.
I knew the heat would be a challenge. It wasn't easy but it's a dry heat, which is a little easier than humid. It was 46 degrees one day, so it was pretty hot. And the problem with The Sahara is obviously a lot of sand. It's practically all sand and there was a lot more soft sand this year than the year before, which is why there were so many people pulling out – at over 10% it was a record drop-out rate this year..
With the exception of the long day, there was always somebody within sight more or less.
TRAVELLING LIGHT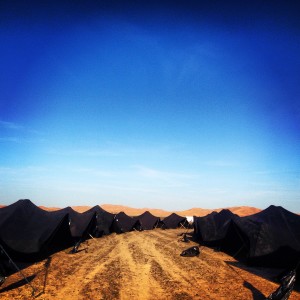 When you are out there, although you know it's only for six or seven days you are pushing your body to the extreme, with no creature comforts. The Marathon des Sables is a self-supported race, so you have to carry all your kit for the whole week, except water and overnight tent (that you share with a small group). So the smallest things become a wonderful luxury. For example a friend lent me the lightest jacket in the world. Having it as a pillow was magnificent.
Everybody stinks but nobody notices. After the third day, I changed my pants and socks but I think I was the only one to do that. I brushed my teeth every day. Some people didn't take a toothbrush and toothpaste because they wanted to save weight.
PAYING FORWARD INSPIRATION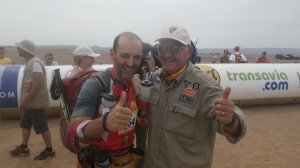 There is a certain euphoria that comes in the last 5k when you know you are going to do it. You just start feeling that it is almost done, and that's amazing. And it's not just the race, it's what you have put into the race – the time away from family, time away from good food and alcohol.
I've done racing in China, Nepal, Mongolia, now Morocco. It's so incredible and I am lucky because you don't get tourists in the places we see when we race.
But above all, it helped me appreciate the wonderful life I have here in Hong Kong. Simple things, like sitting down and having dinner with friends and family.
PAYING FORWARD FOR CHARITY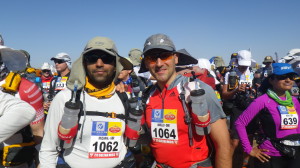 When I did the Gobi in March 2009 I raised USD25,000 to build a school in Nepal for Plan International, one of Sense of Touch's CSR initiatives, (which has sponsored over 200 children so far). This race I raised over €20,000 towards an approach to cancer that is relatively pain free and can hugely improve people's lives, but as it doesn't require drugs or chemotherapy the big pharmaceuticals won't fund it – check out Defence Against Cancer Foundation.
This is our last post as part of the spas+beyond running series. We hope you've been inspired and are pulling on your trainers for a trail run as you read. Don't miss our other posts with tips for your running style, diet, complexion and overall motivation.