Need to move more? De-stress? Rediscover nature? Go for a run! Today is the day of the London Marathon 2014, and spas+beyond celebrates this immune system boosting, mood lightening, creativity inspiring sport.
I hated running until I was in my thirties. I loved other sports but I'd struggled through cross country miles as a child. I endured park runs when I moved to London. And even pro running training for a triathlon in Hong Kong still didn't endear me to the sport.
My light bulb moment flashed when I was mid training for that triathlon while on holiday in Scotland. I ran the almost traffic-free lanes from my aunt's house, eight kilometres along the side of the loch to the village shop and back, and loved every step; the fresh air, the sound of the birds, the scent of the seaweed, the views over the water to the mountains beyond. Every sense was on the alert. I felt wonderful.
Suddenly I loved running. And I've channeled that afternoon, and that surprisingly intense love of running, as much as possible ever since.
But it's not easy, and there's a lot of hard work to get to that zoned out feeling where you're not focusing on every tiring step. As a recreational runner I have many days when my inner sloth wins out. But on good days I use running not only for fitness, weight control and toning, but also as a means of sight-seeing when I'm travelling, as an idea generator first thing in the morning and occasionally as a de-stressing mechanism in the evening.
I particularly love that although you can splurge on lots of special equipment – technical outfits, electronic gizmos and fancy gel and liquid fuels – in reality all you really need to invest in is a good pair of trainers (and a running bra, ladies). Add a comfortable outfit, enough water and an interesting route (or a treadmill with inspiring music), and you're ready to run.
Physically, running can help prevent high blood pressure, heart disease and strokes, obesity and type 2 diabetes. It can increase your bone mass and help prevent bone loss, while strengthening joints.
Mentally it can banish stress and boost concentration levels, increasing your attention span and memory. Emotionally it can lift anxiety, feel-good hormones making you feel significantly happier.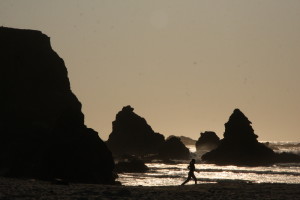 And when running takes you to a world beyond, both inside you to touch on that invincible power, a feeling like you could run forever, and outside to sudden spell-binding views and soul-soothing nature, that's when you know running has a tangible spirituality too.
Coming up we'll be posting top tips to get you running and help you keep the habit, giving you advice on how to best care for your skin when you're a runner, and talking to an ultra-runner who tells us what consequences pushing the body beyond a handful of kilometres a session has – physically, mentally, emotionally and spiritually.