wilderness wellness at kwandwe, south africa
We're living according to the rhythms of the day, surrounded by our planet's animals at their wildest, and feeling the therapy of Mother Nature, the world's most powerful healer. A stay at Kwandwe Private Game Reserve in South Africa's Eastern Cape is the perfect antidote to city living.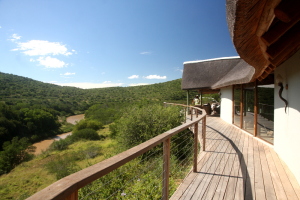 Getting up just before dawn is no hardship when you're about to witness the big five also yawning, stretching and taking stock of their day. Our early morning game drives start after a civilized cup of tea and plate of fruit, Ryan our ranger collecting us from our luxurious digs at Ecca Lodge (one of only four lodges, which includes the beautiful Great Fish River Lodge, pictured here). We climb aboard the Land Cruiser, greet Banana our tracker, and set off as the sun's energizing rays tip over the mountain ridge and light up Kwandwe's 22,000 acres.
The shared dream of a local ranger and American investor bought up ostrich farm after ostrich farm to create Kwandwe, giving the land back to its indigenous flora and fauna. The game were introduced according to the delicate balance of the eco-system and the food chain. Not only is there plenty of space for them, there's also plenty of space for us lucky guests to admire the big skies, the never-ending bush and the animals uncluttered by crowds of other vehicles muscling in for the same view.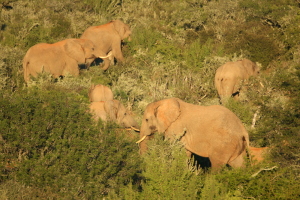 Kwandwe is about preserving a way of life. Ensuring the game have a life as they would out in the wild, they are managed with a light hand, from the big five (lion, leopard, elephant, buffalo and rhino) through the numerous kinds of antelope, giraffe, zebra and wildebeest down to the comedy warthog, moving rocks (tortoises) and hundreds of other animal and bird varieties (Kwandwe means 'Place of the Blue Crane'). But there's one big difference. Here the precious animals are protected from poachers.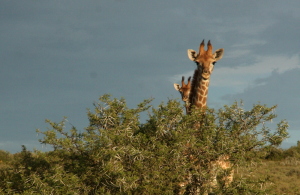 Guests of the luxury lodges are looked after with a rather more luxurious hand, and feature private butlers, personal game rangers and wonderful, and non-stop, food (Kwandwe is Relais & Chateaux). The staff employed to manage the reserve and look after guests and animals are well cared for too, as within the staff community there are schools, medical care, crèches and everything else they need. And the surrounding villages also feel the love, with the reserve's CSR alive and well and working through the Ubunye Foundation. Among many other activities like fishing, guests can join vets up in a helicopter on one of their few rhino darting days each year or accompany staff to a local school and interact with the kids.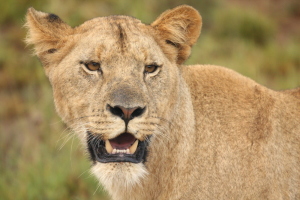 With just a few days to play with, however, your focus will likely be on the daily game drives. One morning Ryan's radio crackled to life and reports of the reserve's South Pride of lion had us zipping off down one of the tracks. The male was lying in the sun, relaxed. And it was Banana's sharp eyes that spotted the female and her two daughters, the adorable younger cub jumping, playing and entertaining her family, and us.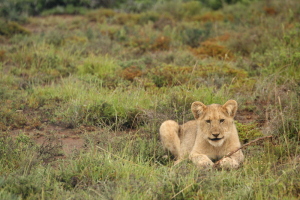 The reserve is so large, much of our time was spent scouring the bush for a shape, a colour, a movement that was fauna rather than flora. And that's half the fun – Kwandwe is so big it's a real challenge. Spotting the languid giraffe, stalking elegantly through the bush, often with stripy zebra trotting alongside was often the easiest. Antelope in packs weren't too difficult, like the impala, kudu and springbok, the occasional eland and the more hidden pairs of delicately beautiful steenbok. And spying the odd white rhino, prehistoric in his thick skin, usually traveling solo, was always a highlight. Sadly the elusive leopard refused to show up.
Between drives we behaved much as the animals did – eating and resting. Grazing on a huge welcome-back breakfast at 10am (is it wrong to eat springbok carpaccio and warthog salami after having admired them in the wild?), taking indulgent naps, relaxing, eating a smorgasbord of salads and meats at lunch, dipping in our plunge pool and noting down the day's sightings in our log book, before meeting up with Ryan and Banana again at 4pm for afternoon tea (no kidding, more food!) and our evening drive.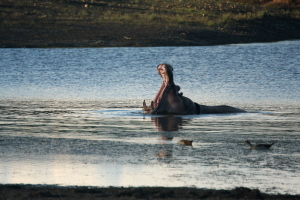 One evening we sat for quite some time watching elephant slowly walking through the bush, delicately picking young leaves off an acacia bush. The calves were playful, the adults watchful. We drove to one of the reserve's lakes, its surface covered in birds, until suddenly a hippo's eyes and nose appeared and whoosh, the birds took flight as he threw open his jaws in a yawn designed to scare us off. And we got to peer through the binos at two cheetah brothers resting under a tree.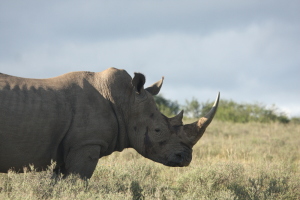 Our last drive we drove downwind of a white rhino, left the safety of our vehicle and tiptoeing single file between Ryan with his rifle and Banana with his super-senses, set out through the bush to sight the beautiful beast on his terms. I was buzzing with a mix of adrenalin and anticipation, and a slight concern at the thought of being on our own slow and clumsy feet, should anything happen. Although his hearing and sense of smell are sharp, we were banking on the rhino's poor sight to allow us to sneak up on him. After about ten minutes my sense of direction was shot, then suddenly Ryan signaled for us to be absolutely quiet and beckoned us over to a bush. There he was, on the other side about 15 metres away. Tearing noisily at the grass, he had no idea we were there. Standing absolutely still we marveled at his beauty and power. He seemed unconcerned, but his ears were alert for the smallest sound. After a few minutes we tiptoed back the way we came. It was a good few minutes before my pulse slowed. But being right in the middle of the wild, feeling for a moment the ever-present danger these animals live with every second of every day, was a fascinating insight into their world.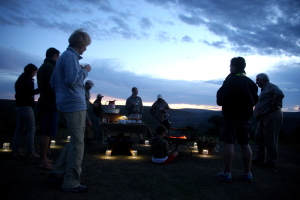 The evening drives end with sundowners. One evening Ryan parked at a spot overlooking Great Fish River, unpacking biltong and mixing alcoholic hot chocolate. The other we joined a bush bbq of cheese fondue, sausages and gin and tonics for all Ecca Lodge's guests, a fun evening standing around the fire comparing sightings.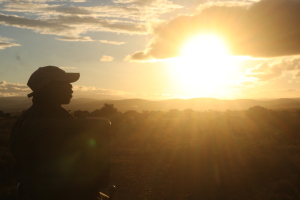 After driving home with spotlights on (and spotting a bush adder our first evening), there's always more chitchat back at the lodge around the bonfire. Our second evening we found a bath had been drawn for us, accompanied by a bottle of champagne. We could have added a spa treatment, but we already felt so pampered and healthy just living this close to nature. Our final evening of still more incredible food, eating alfresco under the stars, we wondered how superficial and unhealthy city living would feel when we reluctantly returned. And then we headed back to our room for a grateful early bedtime, windows open, screens closed, allowing the sound of the night to accompany us to sleep.
To book Kwandwe and numerous other spectacular properties in Africa (and Latin America and Antarctica), check out the beautifully curated collection by A2A Safaris.