searching for yoga love… week 4
A bit of a delay posting but… my final week. It was the best of yoga and the worst of yoga. Was I in love with yoga by Sunday? Was I able to overcome my frustrations of last week?
This week arrived in hectic fashion. I was on a work trip to Vietnam on Wednesday and had an unfeasible amount of work to do before I left. The pressure was on.
Monday – no class.
Tuesday – no class.
Wednesday – I arrived in Vietnam and started my stay at the lovely Alma Courtyard. The upside of a crazy-early flight was that I checked in at 10am and dived straight into a pho breakfast, followed by a swim in their beautiful courtyard pool. I was scheduled to do my spa journey (included in the room rate here – heaven) at 12pm. A mix of poetic tai chi, followed by steam and sauna and then a 50-minute massage and I felt absolutely rejuvenated. Movement, water therapy and an oil massage that combined soothing, muscle-calming strokes with deep tissue via elbows. A great prescription for getting over fatigue. But I hit a wall in the evening. Another day of no yoga.
Thursday – I made up for it this morning with 90 minutes of complimentary yoga class in the spa. Divided into Mind, Body and Soul yogas, following a sweet local instructor I did 30 minutes of Kundalini, 30 minutes of asanas and 30 minutes of relaxation. The magic number was 26, the focus moving from our arms to our stomachs to our legs. The asanas took me more into my comfort zone, although after three days off my legs and back felt as if I hadn't done three weeks of yoga recently at all. The relaxation was divine.
Friday – another 90 minutes. My muscles were feeling it from yesterday. Even more creaky! When will I get over this hill and start feeling better rather than worse? But it was a good class, a combination of easy movements repeated a challenging 26 times, and then some tough moves – frog, wheel – later. Nothing felt particularly easy but I was so happy to be doing yoga with live people rather than a screen. Happy inside.
Saturday – no yoga.
Sunday – no yoga.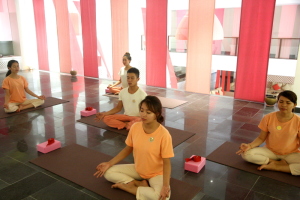 Conclusion: This week wasn't a complete wash-out but I was reminded how hard it is to travel for work, fit in something approximating a regular day's work between visits and experiences, and then find the time and energy for 'extras' like yoga, which of course shouldn't be considered 'extra'.
I'm still not loving it. Still so creaky. Such an uncooperative body. And not much better in mind and spirit. This is taking longer than I thought. I know yoga isn't meant to be a fast fix but…
I am, however, sufficiently inspired to keep going beyond my original four weeks, despite my frustrations, and that's got to be a good sign, right?!