simply scrumptious skincare
Just breathe near Kristy Cimesa's skincare products and you'll be channeling rose and calendula, neroli and mandarin, energy and positivity. Natural, holistic and high-tech – that's Elemental Herbology.
In the past, luxury skincare has fallen either into a good-enough-to-eat natural category, or classified as nose-wrinklingly high-tech and white-coat-ish. But the gulf between the advocates for all things natural and the lab boffins is getting smaller – now we can have our results-driven line and eat it too.

At the recent launch of Elemental Herbology at the Mandarin Oriental Hong Kong, Director of Global Spa Development Kirsty McCormick introduced the range, whose philosophy is based in Oriental medicine. "Our lives are constantly changing – our skin is very different in winter and summer, according to our changing hormones and lifestyle. This means we need to use different products to keep the skin in balance."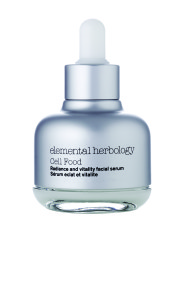 Kirsty's favourites? The Cell Food Radiance and Vitality Serum, the brand's hero product that smoothes truck-loads of vitamins, antioxidants and proteins into your skin, and the Cell Plumping Facial Moisturiser which also delivers botanicals and minerals and comes with a very useful SPF8.

Elemental Herbology is not only retailing at The Mandarin Spa, the brand has created treatments exclusive to the hotel too. Trainer Bernadette da Silva Fava demonstrated some facial moves on www.thehkhub.com's founder Mawgan Batt – giving us a glimpse of what a facial looks like from the other side. (Divine.We were unsurprisingly envious.)

Founder Kristy jetted in just in time, looking as effortlessly stylish as her charmingly packaged products. "Now there are a whole range of fusion brands," she says candidly. "We can be natural and we can be high performance at the same time."

She uses macademia and avocado oils as the foundation of her products, boosting the cellular integrity of the skin. The brand's new wonder-ingredient, found in Cell Food, Botanical Body Repair and Purify & Soothe, is Sacha Inchi oil from the Amazon Basin in Peru, which contains 84 percent essential fatty acids. It plays a key role in protecting and improving the skin's surface, enhancing the cellular regeneration and maintaining the lipidic balance. "It is an ingredient that people are going to start talking about soon," she says.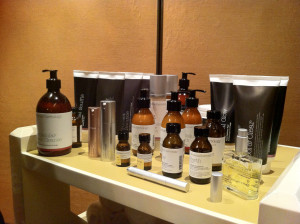 The next morning it was my turn to experience Elemental Herbology's products in the hands of a professional therapist. Shanti said my face needed hydration, therefore it was to be the Water Facial. A rollercoaster of delicious aromatics and textures – the Facial Glow peel pulls no punches – it finished with a soothing cascade of eye cream, serum and moisturiser. The perfect spring treatment.
For a scrumptious spring-like facial experience by Elemental Herbology contact The Mandarin Spa.