mini retreat at chuan body + soul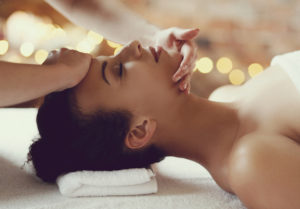 Walk up the beautifully lit catwalk to Chuan Body + Soul's reception and you'll find one of the city's most stunningly designed, teeny-tiny, gym-pool-spa sanctuaries. I was there to explore the recently launched space and try their Hong Kong-exclusive Bee Sting Facial Therapy by famed London facialist Deborah Mitchell.
I pretty much had the place to myself – from the mini duplex gym to the mini rooftop pool to the single room spa. Everything in miniature, but beautifully put together. With a spa booking comes access to the pool and gym, so I curated my very own mini wellness day.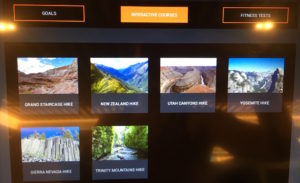 I started in the gym, heading to the treadmill and its Life Fitness movies – I went running in New Zealand then in the US, along trails and through cities. A great way to virtually travel.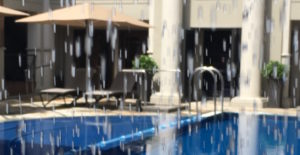 Having worked up a sweat I had a quick shower, pulled on my bathers and did a few laps in the pool. It's not big enough to power through serious lengths, but it does have an alfresco shower and some lovely loungers and sofas, making it a great place to splash around in and then lie in the sun for a few indulgent minutes.
I then headed inside for the real reason for being here.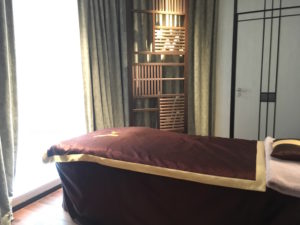 I was trying the Bee Sting Facial Therapy that uses Heaven by Deborah Mitchell products. Facialist to Kate and Camilla in England's royal household, as well as several other celebrities, Deborah created the Bee Venom ABEETOXIN® that she claims is a Botox replacement (thankfully non-invasive) for lifting, tightening and firming. Collagen stimulating and elastin boosting. In short, anti-ageing.
My therapist was the lovely Wendy. The quintessential Hong Kong spa auntie, she greeted me like a daughter, helped me onto the bed, made sure I was comfy, reminded me to take off my jewellery and then the treatment started.
Layers and layers of cleansing, then toning. Then the bee sting serum – which was slightly piquant but only a little. I hadn't known what to expect and it seemed there was just enough sensation to make it seem like it was doing something without being painful.
This was followed by a facial massage, which went on for ages. Divine. I could feel everything soaking into my complexion and my muscles being reminded that they should be a bit higher and more toned than they were. And finally a thick mask to anti-age. As it got to work she massaged my hands, she massaged my head. She went out to make tea…
And then she repeatedly wiped my face having put extra mask on for my poor tired and dry skin. Finally she said she was done, applied a little protecting moisturiser for eyes, face and lips.
I settled down for a few sips of tea in the small lounge. My skin looked plumped and soft. Moisturised. Happy.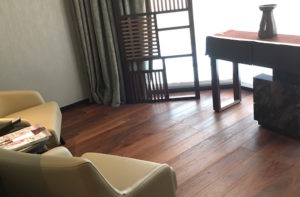 And it felt smoother and more supple for a few days afterwards too.
Did I look Botoxed? Honestly I've never tried it, so I would say I looked like a smoother version of myself, rather than an anti-gravity version.
And I was perfectly happy with that.
Try the Bee Sting Facial Therapy (1 hour 15 minutes, HK$1,380) at Chuan Body + Soul. And learn more about the products and treatments on Deborah's own website heavenskincare.com.