emotional healing at london's classiest new spa
Stunning design, amenities and TLC at The Lanesborough Club & Spa…
When you fill in a spa questionnaire that asks you what you'd like to focus on, and instead of 'neck and shoulders' or 'lower back' you feel emboldened to scrawl 'emotional healing', you know you're in a supremely comforting space.
I was at The Lanesborough in London to experience their newly launched Lanesborough Club & Spa. First I was offered a hotel tour, and post an alleged US$100 million renovation, give or take a million or two, this is a hotel you really do want to tour.
But back to the beginning. This historically palatial private residence turned hospital turned very classically furnished hotel is instantly welcoming. Staff dispelled any hoity-toitiness as I pulled up at the enviable 1, Knightsbridge address, directly opposite Hyde Park and its swirling corner roundabout. "Glowing" following the 30-minute, power-pedalling journey from Clapham Junction by bike, I was disappointed to hear there were no five star quarters for my trusty two-wheeled steed, but the doorman showed me where to lock it up and promised it would be safe under his gaze while I was inside.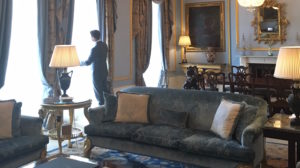 Walking in there's no flashy retail, no check-in desks, no queues. Checking in is done in-room (or suite) with your butler. Five stories of Regency-esque rooms hark back to yesteryear and are stacked with highest ceilings on the first few floors, lowering gradually as you climb, reflecting the original staff quarters "under the eaves". Old school in a modern world. The service is second to none. The technology rocks. Plus the movie night popcorn delivery is a firm favourite.
Downstairs, in the Withdrawing Room, contrary to its fussy name the sofas are squadgy and comfortable, the newspapers crisp, the coffee excellent. The Michelin starred Céleste restaurant, under a ceiling of skylight, glows by sunny day and glints by starry night. The Library Bar serves historic whiskies as drinks and talking points, and the cigar room has converted an alfresco corner into a tented hideout.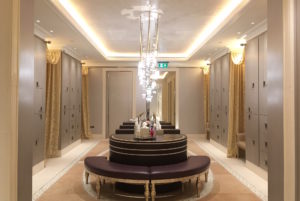 From coffee to teas, nuts and fruit, I headed below stairs to the Lanesborough Club & Spa, where classic British design meets holistic health, and the butlers become 'spa butlers'.
Workouts and juices, smoothies or light lunches are all served up in collaboration with Bodyism by James Duigan – try a Bodyism Warrior or yoga class before you indulge.
For non-members, spa bookings can include a day pass for the hydro pool (bring your bathers, it's co-ed) plus steam, sauna and experience showers. There's also the beautifully named Painting Room for mani-pedis.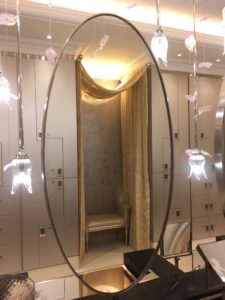 I'm escorted from the reception to the change room, which is so beautiful, rather than throw my clothes in the locker and zip to the spa treatment lounge, I dithered, admiring the island of mirrors and amenities. I took photos of the upside down flower lights and reflections. I made space for myself on one of the mini upholstered benches under a ceiling-high canopy. I slowed down and took my time.
Following a beat-the-London-traffic-by-bike shower, and suitably refreshed, berobed and beslippered, I headed into the lounge. Armchairs, magazines, snacks and teas. Plush carpet. A roaring fire. And just me. I filled in my questionnaire and relished the luxury and downtime. I was in no hurry for my treatment.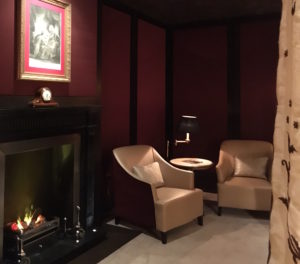 After a handful of precious minutes of luxurious peace I followed Debbie, spa manager and therapist (here 12 years and counting), to my treatment room, where she sat me down, perched on the edge of the spa bed opposite me and took a look at my form.
"Emotional healing," she read out and looked enquiringly over. I explained I'd just come out of a long-term relationship (literally, less than a horribly painful week ago) and my emotions were so raw I didn't even know if I had any physical issues.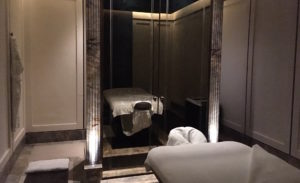 She stepped straight over to me and gave me a huge hug without a second thought. No matter we'd only just met. "I know just what you're going through," she sympathised gently. She's been there. We've all been there. And her understanding for what I was going through and spontaneous warmth was the perfect start to my emotional healing.
She said she'd combine massage on the lower back, stomach and head, all emotional holding points, with Reiki to lift my energy. And if I needed to cry I should just go ahead and let it all release.
Once I was on the table she started a journey that included breathing in the delicious Ila essential oils, a feather-light touch to soothe me, an extensive lower back massage, as that was where in fact she found I was holding the most tension, and a soothing shoulder, neck and head massage to break up the craziness in my mind. There were times when she just laid her hands on or over me or cradled my head. Every move was made with a tangible intention to comfort and heal me.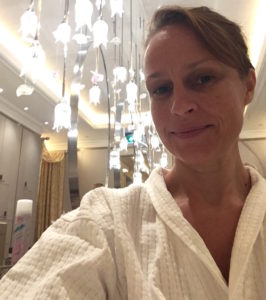 I drifted in and out of consciousness. It was such a relief to be soothed out of the churning thoughts that had taken over. I managed to do what had been very difficult up to then, focus on the present rather than dwelling on the heart breaking recent past or my uncertain future. Surprisingly no tears required.
At the end she got me up, walked me to the lounge and as she delivered me into the arms of the relaxation lounge, a spa butler and a cup of tea, said goodbye. She gave me another hug, whispering, "This life change is opening the door to allow you to experience something new, different, better." With those words, she set my sights on a more optimistic path, and I look forward to experiencing, in time, her prediction holding true.
Find out more about the Lanesborough Club & Spa here.