mcbeauty – but I think it works…
I'm going to call my facial at Skin Laundry's little room at Lane Crawford clinical. Challenging. But also efficient. And possibly beneficial. It's tough to be sure after one treatment, especially one that leaves you wondering how spas manage to travel in time. But as the first treatment is free – for everyone – it had to be worth a try.
I turned up for my 15-minute Signature Laser and Light Facial at Lane Crawford's busy IFC skincare podium (there are three locations in Hong Kong). Everyone's been wowing about it, and I'm looking forward to the experience. As a result, being so used to the Asian spa model of touchy, feely, smiley people, I wasn't absolutely prepared.
Firstly, at the retail booth I was asked politely to type my own details into a screen, which confirmed my appointment and gave them some particulars. Secondly, I was whisked through the shop floor, no chitchat, no small talk. Thirdly, once in the very bare room I was given cleanser on a face pad and asked to cleanse my own face as I stood at a mirror. And fourthly I was told to lie down, fully clothed, on a spa bed. And finally, when I asked what the benefits of the facial would be for my face, I was given an answer rattled off by rote, no pretence at a skin analysis at all.
I felt like I'd been swept back into the 70s when spas were clinical, therapists wore squeaky nurse shoes and treatments weren't meant to be pleasurable or understandable.
The treatment itself? Yes, a bit of a challenge too, but that was expected. I wouldn't go as far as to say it was painful, but it certainly wasn't pleasurable. Theoretically, the two-pronged attack would laser the skin to deep cleanse, resurface and fade any pigmentation, then use light to stimulate collagen and even skin tone.
The laser elastic band pinged its way uncomfortably across my face. Then the IPL felt like it was shooting a light into my brain through my scrunched up eyes it was so strong, even with the glasses on. I worried about whether it might be frying my already-challenged brain cells, but strangely not enough to stop the treatment.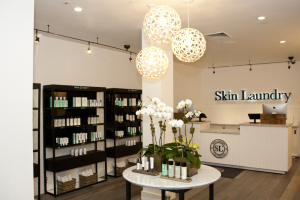 Then, suddenly, it was all done. I got up and peered, a little light-headed, at my rather red face, which the therapist told me was normal and would fade in an hour or two. Then she led me back to the product booth. I asked about the products and whether they had any brochures, which they didn't. Bizarre. No information? Really? I walked away, rather dazed and confused with a few mini samples.
Welcome to today's spa treatment. This is what everyone wants. Fast, simple, one size fits all.
The next day I have to say I was impressed with the softness of my complexion and with the redness gone, I did seem to be left with a bit of a glow. And with repeat treatments that softness and glow should theoretically be joined with an extra firmness, fewer lines and diminished wrinkles, clear acne and broken capillaries healed, to mention a few.
So that just goes to show what I know! Welcome to the new generation of spa treatments. They may feel like McBeauty and may not be much fun, but when they are over and done with in 15 minutes, and do deliver some results, what's not to … well, appreciate?
Go to Skin Laundry to book your free treatment and see for yourself!