It's not too late to decide to go to this weekend's IRIS festival. How come? It's yoga, meditation and wellness, it's music and arts, and you can just pitch up because it's all for free!
From 10am to 10pm you can asana and meditate and drum and om your way through the day, breaking for sustenance in the shape of numerous foodie stalls and for beauty at the main sponsor BIOTHERM's Beauty Touch Up Bar.
So… who and when and where?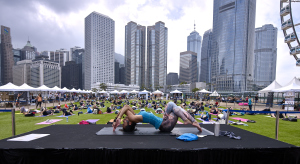 It all takes place at the Western Kowloon Waterfront Promenade, tomorrow Saturday March 5th.
Yoga:
10:00am-11:00am: Go With The Flow with Heloise Chong
11:15am-12:15pm: Flow In Slow-Mo with Greta Lai & Cora Lee
12:30pm-1:30pm: Core To Crow Vinyasa Flow with Charlotte Johnson
2:00pm-3:00pm: Acrovinyasa with Jessica Lee
3:15pm-4:15pm: Flow For Freedom with May Nogoy (Soultrains, Whoopee Club)
4:30pm-5:30pm: Prana Sanchalana Yoga with Dileep Puliyolly
5:45pm-6:45pm: Freedom To Fly with Victor Chau (Epic Yoga)
7:00pm-8:00pm: Core Awakening with Adam Weirick (Yoga Union)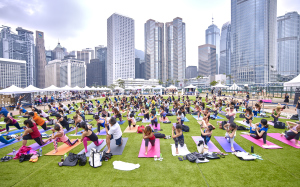 Meditation:
10:00am-11:00am: Drop Into Stillness with Charlotte Douglas
11:15am-12:15pm: Tea Ceremony Meditation with Resham Daswani
12:30pm-1:30pm: Relax and Rewind with Heidi Poon
2:00pm-3:00pm: Song Of Gratitude with Dominique Moralez
3:15pm-4:15pm: Meditation Playground with Elena Maria Foucher
4:30pm-5:30pm: Inner Balance with Gretchell Yaneza
5:45pm-6:45pm: Meditation With Healing Kirtan with Cristina Rodenbeck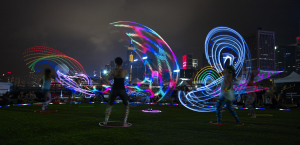 Creative entertainment:
12:15pm-12:30pm: Bobsy Gaia – Harmonium Ohms
3:00pm-3:15pm: Gretchell Yaneza & Cellomano – Sound Meditation + Soul Song: The Offering
4:15pm-4:30pm: Nagasawa Takahiro – Hand Pan Drum + Jonasun – Contact Mystic Juggler
5:30pm-5:45pm: Corina Sucre & Daniel Sierralta – Arte La Vid Acrobalance Cirque
6:45pm-7:00pm: Corrine Gibbons – The Healing Power of Music
8:00pm+: Gretchell Yaneza & Corrine Gibbons – Closing Circle of Sound Collaboration
Does a Hk Saturday get any better than this?
Get more info and register here.