lasting tlc from singapore's damai spa
When your face looks as tired as you feel, it's time to let the pros take over. Nature, space and tranquility, TLC from everyone you meet and intelligent, beneficial treatments beautifully performed – on arrival at Singapore that's what I needed and at Damai Spa at the Grand Hyatt Singapore that's what you get.
It's not a curvy spa, but the sleek wood and stone interiors are instantly calming. The fragrance of Orchid of Long-lasting Essence hits your limbic system, the receptionist sits you down with a cool draught of ginger and pandan leaf tea and a refreshing lemongrass towel, and then you have the fun of reading through the menu, like a kid in a candy store.
While the design is contemporary, the menu is Singapore in a nutshell, with Traditional Chinese Medicine, Malay Jamu and Indian Ayurveda as well as European treatments. Each with their own focus (balancing, healing, purifying and renewing respectively), Damai has taken the strengths of each indigenous healing philosophy to showcase Singapore's cultural melting pot via authentic wellness.
It struck me that the Grand Hyatt is actually the perfect place for a little personal detox. Apart from the pool, plus sauna and steam, the next-door Fitness Centre has Pilates, yoga, PT, fitness classes and also is happy to help with nutritional advice, or feed you spa cuisine. Note to self for my next visit…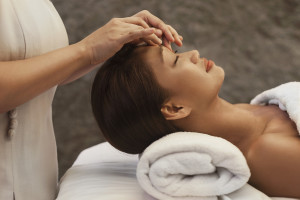 Right now, tired from the night before, muscles aching from my flight and ready for anything, there were a million things that sounded great – the Indian Ocean Salt Exfoliation, a Hot Stone Massage, the Luxury Foot Revival – but I was there to try the Damai Orchid Facial, a blissfully relaxing yet results-driven 90 minutes of June Jacobs deliciousness.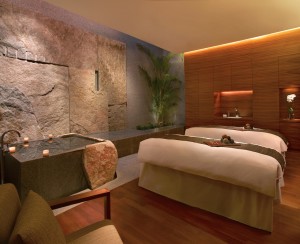 Mary, my therapist, led me along the sci-fi-luminous-blue corridor, completing the journey from weary reality to slightly surreal relaxed anticipation. In total contrast, the wood, raw stone and chocolate coloured rooms overlook water features and greenery through wall to ceiling plate glass. (But if you can go with a friend, book into the couples' room with its stunning stone bath).
After changing, the Foot Ritual of lime salt scrub and wash came first, then I hopped onto the bed and Mary got to work. Cooling cleansing, active exfoliating, layers and layers of fragrant creams drawing the grime and toxins out then putting back in the antioxidants and botanicals that would rejuvenate my complexion. The best part? The warm Himalayan salt stone massage targeting pressure points and helping lymphatic flow, muscle release and smoothing.
At that point I'm afraid I nodded off, but a charming little snore woke me just as Mary finished smoothing protective moisturizer on my face. Super relaxed, I realised I'd pretty much just had my original wish list of foot treatment, exfoliation and hot stone massage, just with a twist.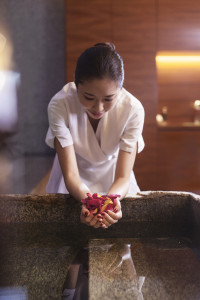 The finishing touch was Mary's advice. To help stave off the effects of time, when washing the face or putting on serums and creams, I should be taking my time. Instead of slip-slap-slopping it on in the usual morning rush, I should be starting in the middle of the face smoothing upwards, then outwards, hitting pressure points above the brows, then gently down the sides of the face. Repeat. Calmly. Do this and on future mornings I might be able to recreate some of the relaxation she had just bestowed upon me.
My face was plumped, dewy and happy. I didn't want to leave to go back to the real world. But since that treatment the lasting effects are that I've thought of Mary and her advice almost every day as I struggle to emulate her TLC, by smoothing, lifting and relaxing the face looking optimistically, if not always calmly, back at me in the mirror. I couldn't really tell you if I look any more smoothed and lifted as a result, but I can say that when I manage to slow my TLC down, I feel infinitely more relaxed.