When I visited Tri this December, it was so new it had barely opened. The super stylish eco retreat is also barely visible from Koggala Lake, arriving as you do by Cinnamon Air seaplane (divine) and then boat, helmed by the irascible local boatman Douglas. And it's barely possible to stay awake during the massage by local therapist Sambath in the spa.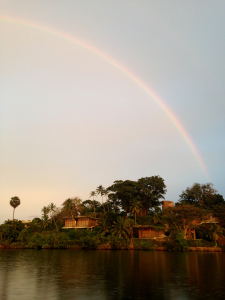 To be fair we had been up at 5.20 to witness dawn. A little posse of us had trooped onto Douglas' boat in the gloaming light. We sat during a calm hiatus as the engine's key dropped in the drink, followed by an unplanned swim to find it, finally requiring inventive engineering to get the motor going. And then he put-putted us out into the bay. We didn't have to wait long to learn that sunrise plus slight rain equals a rainbow arcing over the resort. Drama, innovation and beauty… Could it have been planned any better?
Following a multi-course breakfast where I learned that millet makes a mean porridge and smoked mahi mahi goes deliciously well instead of ham in an eggs benedict, visiting practitioner yogi Nick took a gentle yoga class. Deconstructing then reconstructing the sun salutation, he had the four of us almost perfectly in synch, relishing the gentle breeze that drifted in off the water below.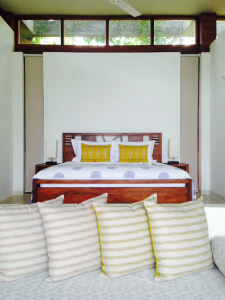 Then a quick nap in my lovely room. Then Sambath. I walked down under the library to the rather spartan spa. He welcomed me, said no, I didn't need a shower. And promptly picked up the towel on the bed, held it in front of his face and told me to take my clothes off. Awkward! Keeping my undies on I lay face down, breathing in the slight scent of cinnamon.
While his etiquette might have been slightly AWOL, Sambath delivered one of the best massages I've had in a long while. Using warming cinnamon oil, his hands alternated between smooth and soothing, firm and therapeutic, and on request, bordering on painful as he worked out various knots. My trapezius muscle is the one creating the problems for my upper back and neck, he declared.
That evening, over an incredible spread of local curries and veggie sides, we talked with Rob and Lara the owners. How Rob had fallen in love with the land, and how Lara and Rob had fallen in love with each other, and how the result is one of the country's most sustainable and beautiful boutique resorts.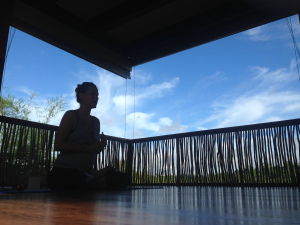 Lara is renowned in her own right as the creator of Quantum Yoga, very roughly described as a hybrid of yoga and Ayurvedic healing. Take a dosha test to discovery your personal prakriti (temperament or nature) beforehand, and Lara will use the results to devise the most beneficial class possible.
The next day I appeared with my multiple choice filled out, and for fiery, challenge-seeking pitta-vatas like me a grounding, calming class is best. We started with some beautiful chakra work, then a series of deliberate and slow asanas. Luckily Lara adds in a bit of what your nature craves, even if it's not what you need, and we finished with headstand to crow and back again. A lovely challenge of balance and control.
The rest of a stay at Tri could include a detox or, 45 minutes from Galle with its shops, restaurants and bars, a Sri Lankan style retox. Douglas can zip you over to one of the lake's islands to see where cinnamon comes from. Or you could just spend sublime time swimming lazy laps in the infinity pool, relaxing to the beachy tunes, napping in the high-ceiling, panoramic-view rooms, and sampling Lucky the barman's beetroot martinis.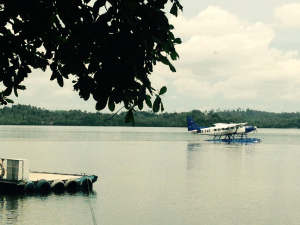 … And even when you're sad to leave, there's a wonderful Cinnamon Air trip back to Colombo waiting for you…
To see what all the fuss is about, check out the fabulous Tri (pronounced 'tree' not 'try') and plan a trip to Sri Lanka before everyone's heard of it. Check out flights with Cinnamon Air here.