the power of competition on moving more
One of the best ways for me to get myself moving is to sign up for a race. It gives me an unmovable deadline, keeps me training for fear of coming last, and when I sign up with a friend it gives me a partner in crime to stay true to, and with whom to rant about training pre-race and rave about the downhills post-race.
This weekend I did the Action Asia Events' Double Cove Sai Kung 2 Ridges (err, I must confess I had opted for the 8km Fun Run, which should be named the 0 Ridges). It was the first trail running race I'd done for many years and although I was running solo, it was a great reminder of how adrenaline boosting it is to be running in a pack.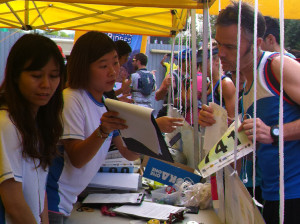 The run out started with steps up and down, then lead to a trail and on to a road, which then steadily climbed and climbed and climbed until the turnaround. No way I'd have run any of that if I'd been out there on any given weekend, but although I walked the steeper bits I did much of it at a jog.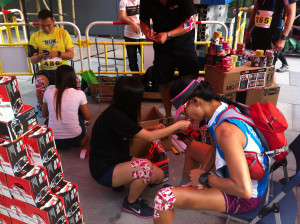 With all that uphill it took me a while to remember to push myself during the comparative relief that was downhill. Usually doesn't take me a moment to get competitive, but I was running at training speed until someone overtook me and I had to have a stern word with myself. Although I was a little worried about forcing a stitch, I then discovered how much I could exert myself when under the clock, and how useful it is to push your boundaries in terms of the level of physical discomfort you can deal with.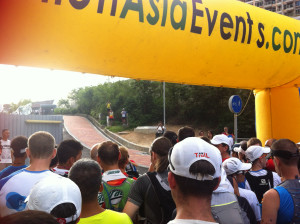 The last uphill I was overtaken by another runner, who slowed down to a walk for a moment. I called out, between huffs and puffs, "Don't stop, you've got me!" and she broke into a run again. I was determined not to let her out of my sight and at the top of the hill sped up, matching her pretty hard sprint for the last 300m of steps and road. I don't know your name, but thank you!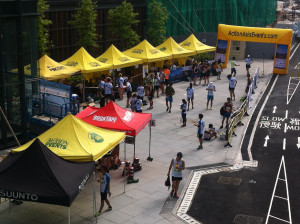 I was left with the feeling that in hindsight I should have been able to push myself harder. Easy to think in the cool of the MTR on my way home. However, I know that the combination of heat, hill and heart rate meant I felt like I was doing the best I could at the time. There were some moments of real discomfort and I truly was pushing myself all the way. But I was fairly happy with my time (49.10) considering the terrain. Plus, it gives me something to beat next time.
(Bizarre but entertaining footnote – I came first in my category (old people). Wasn't there anyone else less out of condition doing this distance too?!)
Some food for thought…
Side effects to moving more:
A fitter, more toned body feels great
Increased energy levels
Detox via sweating, which includes better skin
You start eating more healthily naturally
Mood elevation – you can run yourself happy
Trail running reconnects you with the beauty of nature
For motivation to get moving:
25 ways to learn to love running, by Emily Faherty – especially #18
check out these podcasts:
another mother runner 
marathon training academy
endurance planet
two gomers 
For more races coming up this autumn look out for Lantau Vertical, Lantau 2 Peaks, Raleigh Challenge Wilson Trail, Moontrekker, MSIG HK50 – all between now and the end of October…
Action Asia Events 
Revolution Asia
Seyon Asia
Hk Hiking