hong kong's record-breaking yoga class
History was made recently, when Hong Kong's biggest om of yogis and yoginis took to their mats at Central Harbourfront during the Green Summer Festival for #OmTogether. Over 600 people, from absolute beginners to instructors, and kids to seniors, turned up on September 14th to set down a colourful patchwork of mats and follow the two-hour practice against a gentle Hong Kong sunset.
Dr. Bryan Lau of Pay-What-You-Wish Yoga and renowned Hong Kong based instructor Claudia Whitney lead the alfresco class, while Jason Nogoy of Crafthouse spun tunes to go with the flow.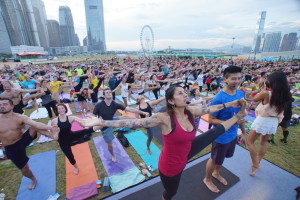 "It was wild," says Claudia. "We thought we'd get maybe 100 people when we first planned it, then on Facebook it started to explode. There was so much buzz! We had people with their families and their kids, we had people who had never done yoga before and we had teachers. But everyone was on the same level."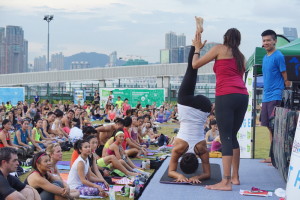 Yoga and music have always been a good combination but including a DJ with specially curated playlist takes it to another level.
Jason is Claudia's husband, and she says, "We thought about the music and how we could bring the energy up and down. It really worked. At times the music was so powerful, then times when it mellowed out. There were songs I connected to and I couldn't hold still it felt so good. It's great to use music as a way to enhance yoga practice, to get into the flow."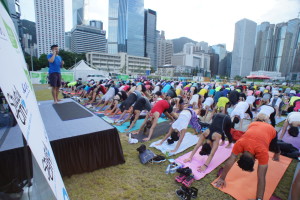 Dr. Bryan Lau called the event "a blessing", and Miko Bantigue, CEO of organisers Stretch City Hong Kong, added, "We are grateful to our partners and to the community for placing Hong Kong on the map as a centre of yoga and healthy living in Asia, and for joining our mission of Yoga-For-All."
"The weather was beautiful, the music was great, I was brought to tears like a hundred times – you could feel the power of like-minded people together," says Claudia. "When 600 people have the same passion as you, you feel very connected."
Check out the film by Jason Nogoy, which includes drone footage. Spectacular!
We hope there will be several more events like this – keep in the loop by checking out Stretch City's Facebook page.