the most pampering bar in town
Front row seats overlooking Victoria Harbour, champagne on tap and fine art (in miniature)… Sounds like Hong Kong's coolest hang out. And it is. The Nail Bar at the Four Seasons Hong Kong is the most luxurious place to get your hands and feet soaked, scrubbed, sculpted, buffed and painted back into shape.
Sleek black leather pedicure thrones dominate the space, each with its own personal view of the water and Kowloon's skyline beyond. While inside, the pillars and walls of marble and pearl shimmer in their honeycomb design unveiling polishes, each displayed like a jewel in its own display case.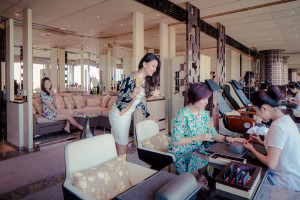 I was there for a Nail Social – choose up to four of your favourite (or most grooming-challenged) friends and spend two-and-a-half hours chatting, laughing and squawking over the latest gossip, the state of your nails and the gyrating massage pedicure chairs, in no particular order.
Fuelled by bubbles (or a shot of wheatgrass juice if you so wish), washing down a delicate afternoon tea or hors d'oeuvres treats depending on the time, as the sun goes down over Hong Kong's iconic skyline the volume increases and the lovely long-suffering therapists do well to keep a straight face.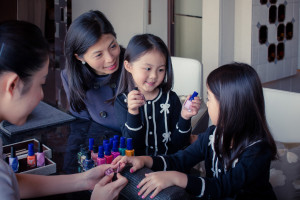 My therapist did a Herculean job on my soles-slash-hobnail boots. Is it just me or is Hong Kong particularly hard on the heels? I eased into the massage chair's surprisingly accurate shoulder, neck and lower back massage, being pummelled gently into relaxation. Following the tough choice between Azature, Orly, Deborah Lipmann or OPI polishes (kids get great colours with Little Boo) she delivered me back a pair of really quite nice looking feet.
Unfortunately deadlines prevented me from having the full monty of manicure as well, but as I slid back into my flip flops my feet suddenly looked like they needed new summer sandals. And that's how it starts. You pretend you're high-maintenance and it snowballs from there. But what a way to go!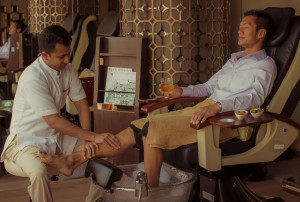 It's a 150-minute splurge, but it's SOOOO worth it. Guys, you can choose whisky rather than champagne if you prefer, and of course The Nail Bar welcomes baby showers, hen parties and any other lovely get-togethers. Mon to Thurs HK$11,888, Fri to Sun HK$12,888. www.fourseasons.com/hongkong