searching for yoga love… week 2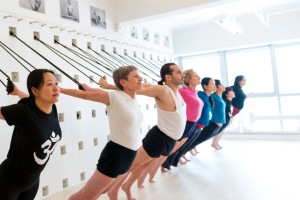 Monday I started this week off with a beginners' class at The Iyengar Yoga Centre of Hong Kong. I'd long been curious, I knew only sketchy details of B. K. S. Iyengar's particular philosophy and wasn't sure if it was going to be my cup of kombucha. Here's what I learned: Iyengar yoga is yoga deconstructed. Clinically. Then reconstructed, muscle by muscle. Perfectly. Or as close to perfection as my protesting body would allow. No music. No frills. No nonsense. The class, taken by director of the centre George Dovas, lasted 90 minutes, covered only about four or five asanas in excruciating detail and left me shaking with exhaustion. And surprisingly, I loved it. It was the greatest insight I'd ever had into what warrior, hero and even basic old tadasana should really look and feel like. I came away feeling like Iyengar is the yoga foundation that everyone should experience.
I think it took its toll though, as Tuesday I half-heartedly did the shortest class I could find on www.doyogawithme.com. Better than nothing? I'm not sure. But even those 10 easy minutes were a challenge almost beyond me.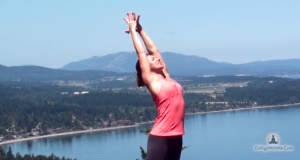 Wednesday my energy levels had returned and I revisited one of my favourite Fiji McAlpine classes, Rise and Shine. Challenging, but flowing and energising, it really is a lovely way to start the day.
Thursday I did another short online class. This time more a reflection of a lack of enthusiasm than energy. But I couldn't really understand why I didn't want to get onto the mat.
Friday. Crazy deadlines and a friend's birthday. I know, excuses excuses…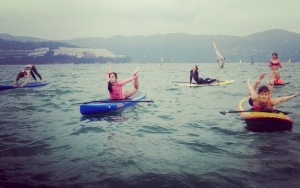 Saturday I had booked a SUP Yoga class. Yes, that's yoga on a rocking Stand Up Paddleboard floating on the sea off Stanley Main Beach. I'd never done SUP before, but how hard could it be? Well, with choppy waves, currents, wind and dragonboating teams powering by it was quite an introduction. But the meditation and yin yoga were great. Meditation while floating on the ocean, hearing the lapping of the waves on the side of the board while breathing in the salty air and listening to the distant sound of the dragonboats' drums took it to another level. The yoga was a fun challenge. Stretches and poses that don't include four points of contact put you in danger of falling into the drink. But downward dog, wheel pose and even shoulder stands were all remarkably easy. And instructor Nadine Bubner (who shares my yogini crush on Fiji!), is a wonderfully patient and fun teacher.
Sunday. An enjoyable 30-minute evening class with Fiji to round off the week on a high note.
Although I have failed again on the meditation (and pranayama), a small physical upside is that I'm feeling slightly more flexible. And after the teeth gnashing of Tuesday and Thursday I seem to have stopped mentally fighting the challenge. Overall I'm pretty happy with my second week's six days out of seven tally. If nothing else it leaves me room for improvement during week three…