a tropical holiday in hong kong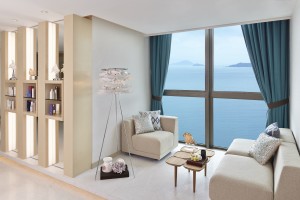 I love the sky scraping high-pressure chaos of Hong Kong, but when I feel like I'm about to spin out and a bit of balance is needed, it's staycation time.
Several of the city's five stars offer residents a luxury deal but none have quite the trifecta of accessibility, resort feel and calming ocean views as the new Auberge Discovery Bay (DB to us locals).
It seems strange to be trailing families and kids onto the DB ferry, and then making your way to the five star resort by way of a public bus, but that's the charm of DB; no taxis in this super-breeding, man-made utopia.
We arrived at the hotel to an effusive welcome and were whisked up to our ocean facing room. Star of the show? The sunken bath – big enough for a crowd – and the bed, ditto. No wonder there are so many kids on the island. The colourful interiors feel beachy without being kitsch and the inside space is enhanced by the panoramic views.
Downsides? The TV channel has no music channel, which would have been perfect while swimming lengths in the bath, and we couldn't find an iPod dock. But that's pretty much it
In the morning, whatever you do, do not miss the buffet breakfast. Truly five star, it has dim sum and other local specialties, plus western everything and a fresh batch of charming staff. Up next is the pool, a truly resort-tastic expanse of water, landscaping and lounge beds. With or without kids, it's a treat.
And then there's the spa, bringing the renowned Spa Botanica brand from Singapore. I clocked in with an hour to play with, and couldn't decide between a ravaged face saving facial and a sleep inducing massage. Spa Director Ada offered to put together two 30-minute treatments so that I could have both. I was showed to one of the single rooms – not much space around the bed, but with a toilet and shower in each one. The temperature was good, the music got turned gently down and I mentally and physically collapsed.
First up was the massage, which concentrated perfectly on the back shoulders and neck, and it was clear Ganga knew not only her anatomy but also how to hone straight in to my pressured points, relaxing my muscles a good few notches. The facial was comparatively applied with gentle and caring touch, and I was left with a beatific smile, feeling like I had been magically re-created.
The bus ride back to the ferry pier through DB's Sunday morning scenes was entertainingly Stepford. Smiling, happy people playing tennis, smiling happy joggers running off the excesses of their perfect weekend barbeques, smiling happy familes setting out on fun hikes in the nearby hills. Had they also just been to the spa? Everything was clean and nice. Even the ferry back to reassuringly gritty, real Hong Kong was nice. Returning with recharged batteries and a slight tan, we felt like we'd been to Phuket or Cebu, without the travel downtime or the currency exchange. Perfect.