perfect feet for the beach
Danang is Vietnam's hottest destination right now. For surreal style in the sunshine, stay at brilliantly mad designer Bill Bensley's InterContinental Danang Sun Peninsula Resort where perfectionist podiatrist Bastien Gonzalez's new PEDI:MANI:CURE Studio promises fabulous feet…
I first experienced the BGA pedi-cure at the Landmark Mandarin Oriental in Hong Kong, where heartthrob French pro-footballer turned podiatrist Albin Brion trims, buffs and smoothes feet until they're beyond red carpet ready.
At my recent trip to the InterContinental Danang, visiting Singapore-based podiatrist, dapper-dresser and pro-footballer #2 Steve Desobeau tackled my toes. Is this podiatry a pro-footballer thing? When will David Beckham be travelling the spas of the world filing nails?
Taking the French brand into Asia, step by perfect step, is founder Bastien Gonzalez, an ex pro-skier (just to make a change), who explains, "Beautiful feet are healthy feet. BGA is about treating feet and caring for them. Spas haven't been respecting the etymology of the word pedicure: pedi is feet and cure is treatment, it's not just painting the nails. The feet have 26 bones, 51 muscles, 103 ligaments and 3 arteries – so we also work on the mobility and tension in the feet."
Love them or hate them, feet are important, and the stats speak for themselves: Bastien has 48,000 pedicures a year happening in 16 studios around the world. His crazy-charming French team is busy. "That's a lot of feet, a lot of toes," he smiles.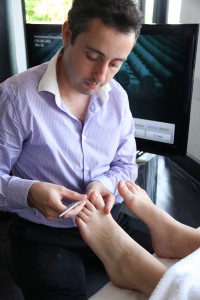 As the only person in the studio who isn't an ex pro sports personality, rather than focus on my physical shortcomings I relax into the pleasure of the cure. Surprisingly there's no foot wash. Working on dry feet helps increase the precision, and Steve focuses firstly on nails, then skin, finishing with a foot and leg massage.
There's nail shaping, filing and 'flossing' between the nail edge and skin to remove dead skin. Nails are buffed to a shine with a reproduction of the chamois buffer Bastien's great-grandmother used, with the fine grain, mother of pearl cream from the Reverence de Bastien product range. Lastly comes the massage of the foot, ankle and calves, right up to the knee, which has me moments from nodding off…
Taking me through the good, bad and ugly of my feet, I emerge from foot-shame to foot-chic, with a mini education on how to care for these essential yet easily forgettable parts of my body.
In Asia, also find Bastien Gonzalez MANI:PEDI:CURE Studios at the Maldives' One&Only Reethi Rah, Singapore's The St Regis, Delhi's The Oberoi Gurgaon, Hong Kong's Landmark Mandarin Oriental and Thailand's InterContinental Hua Hin Resort.