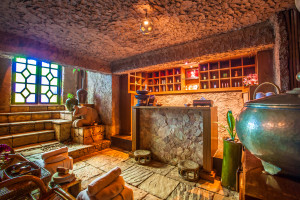 May in Myanmar – the mercury hits the 30s. At Hotel by the Red Canal the cave-like spa is a tall drink of water, and the perfect place to retreat.
The cool, dark space is reached through double wooden doors that lead from the baking pool down into a cavern. The walls are made of mud, straw and rice husk in the ancient Indian tradition, the lighting is low, the scent is deliciously lemongrass and the temperature blissfully cool.
It's tiny. If you choose a foot massage you'll be sitting on one of the loungers in the reception room. It looks great, but could be a little interrupted with people and phones. Also on the limited menu are traditional massages, a scrub (walnut and lavender) and foot massages,
I'm there for an aromatherapy massage and I'm lead down the short mud, rice and straw-lined corridor into their single mud, rice and straw-clad room (there's also a double) with vibrant textiles on the bed. It's like going for a massage in a dark, soothing cave.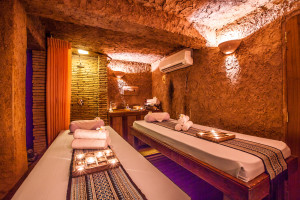 After a rather abrupt start with the therapist telling me to take my clothes off and leaving (I press her for more information, such as should I lie face down or up, is there a towel to cover me, where should I put my clothes) – I settle down, reveling in the cool silence.
The massage was incredible. Starting with some gentle rocking to get me in the zone and calm my thoughts, she works firmly but so comfortably on my muscles, which after six crazy days and overnight buses need all the help they can get. It was absolutely perfect (and I must admit that I don't often say that!) until the rather abrupt 'your massage is finished'.
A few extra service niceties and the spa at Hotel by the Red Canal could easily rival Mandalay's U Bein's Bridge and the malted milkshakes at nearby Café City as a 'what to do in Mandalay'.