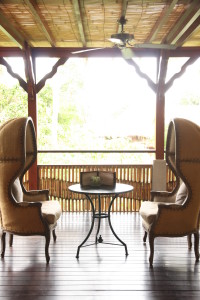 DaLa Spa at Alaya Ubud visually seduces guests, demonstrates local healing traditions and performs mesmerising treatments. This month launching Thémaé, the Parisian brand renowned for healing tea ingredients, this could become one of Bali's most divine spas.
Michelle Tanaja, the co-owner and MD of Alaya (and Villa de Daun in Kuta), positively glows good taste and style as radiantly as her properties and spas. She walked me from the hotel's lobby and welcome coconut water, mint and lime drink, past the soaring Petani restaurant and the hotel's rooms, to DaLa Spa, where the French boudoir slash Indonesian sanctuary had one of the most arresting spa receptions I'd seen.
East meets west and west falls in love with east.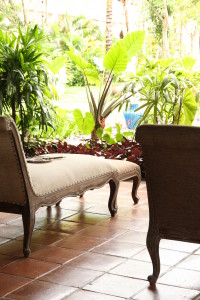 I was in love with the huge, airy space of terracotta-tiled floor flanked by hooded armchairs and sofas, and an apothecary table at the far end where scrub ingredients are prepared in front of you.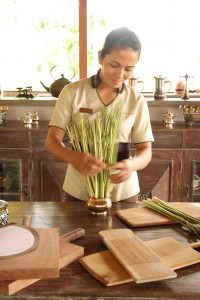 I was in love with the space in the individual treatment rooms downstairs, each with a different flower name and a corresponding colour, and all decorated with antiques found in Indonesia.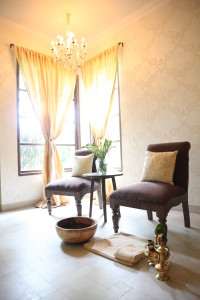 I was in love with the light shining into my room, sweetly named Tuberose. I changed and then offered up my feet for a foot ritual. I jumped into a bath of lemongrass, lime, betel nut and tuberose, emerging warmed yet refreshed for the traditional urut nusantara massage. I tried valiantly to stay awake but what with the singing bowls, heady oil and energy alignment didn't quite manage it.
And I was still in love with the place as I returned to the seductive version of reality upstairs, where I sat down to a cup of lemongrass tea.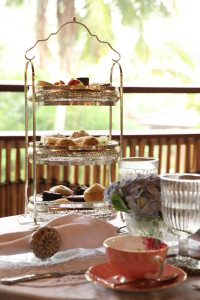 Then high tea, and a gecko, arrived. The high tea, of three delicious looking layers of sandwiches, cakes and other delicacies, was served to the table. The gecko dropped down from the ceiling onto my shoulder, and more shocked than I was, immediately scuttled onto the chair before being shooed away by the staff.
West meets east and east freaks out…
At Thémaé's recent launch on 21st January, 50 guests, VIP spa-goers and media were introduced to the popular French brand. Experiencing a choice of massage or facial was the highlight of the day, with treatments carried out by DaLa's therapists as well as Thémaé's Senior Cosmetologist, who had flown in from Paris. And everyone went away with products to try – a Thémaé Body Mist and Thémaé Shimmering Gold Dry Oil. To try a Thémaé treatment for yourself, on the menu you'll find the stress-relieving Oriental and Asian Fusian body massages and their rehydrating and anti-aging facials plus, mixing East and West, the Malabar Tea Ceremony uses local ingredients like limes, lemongrass, antioxidant-rich green tea and tea tree oil to refresh and uplift. Above all spas+beyond loves the natural fragrances of Thémaé's products…