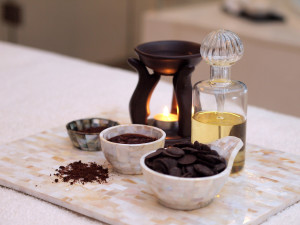 It was a cold and stormy, rather than frosty morning, when I made the trip up to the Hyatt Regency Sha Tin for a festive treatment all about chocolate.
I remember not too long back when chocolate was all the rage in spas. And while I love eating the stuff I've never been sure if getting covered in it was such a great idea, even though I am told it is full of health giving antioxidants.
First, however, I had lunch at the hotel's Café, warming up with the fabulously festive buffet which included turkey and stuffing, brussel sprouts with bacon, braised chestnuts, parsnips, cranberry sauce and gravy. And of course mince pies.
For some reason this year I was suffering from a particularly harsh pre-Christmas allergy to all the useless 'stuff' masquerading as gifts, tempting people to spend their hard-earned money on items that will likely end up as landfill. This had spilled over into an eye-roll at the very mention of Christmas. Amazing how a festive lunch of traditional treats in great company could start to melt my chilly reaction.
After completely over indulging, the lift heaved me up to Melo Spa on the 5th floor, where my therapist Kamuri whisked me straight into the treatment room. I love the rooms here – all pale wood, white marble and glass, with panoramic views overlooking a greener part of Sha Tin.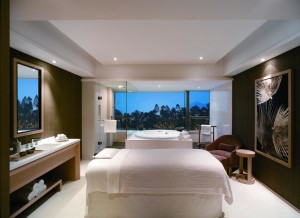 Kamuri breezed through my foot wash, outlining the treatment as she went – a chocolate and sugar scrub, chocolate body mask, shower and finally cocoa oil massage.
I slipped between the delightfully warmed sheets under the cosy, fleecy blanket. First up was the chocolate and sugar mix scrub, a fragrant mixture with quite an aggressive texture. By the time I turned over it had melted onto me and I was literally frosted. I was quite grateful when I changed from a toffee apple to a Yule log as the chocolate mask was applied on top like icing.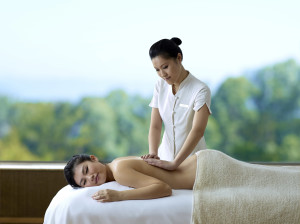 Once the mask was on I was wrapped in a heated cover and left to marinade for ten minutes. I can take only so much heat and so by the time Kumari came back I was all too ready to emerge, steaming like a freshly baked cake. After I washed off I relaxed into the more usual massage.
When all was done I really did smell delicious. Wafts of the decadent chocolate fragrance stayed with me throughout the day; a really delicious reminder of a very sticky afternoon, and one that had somehow sloughed off my former bah humbug attitude and left me full of the joys of Christmas.
Try the Chocolate Indulgence at Melo Spa, Hyatt Regency Hong Kong, Sha Tin. It is on the menu through Chinese New Year and Valentine's Day: 2.5 hours, HK$1,988 for one person. Even better, for two people the spa will throw in a complimentary 30-minute aromatherapy bath in the private couple's suite.  www.hongkong.shatin.hyatt.com