ananda – a down-to-earth retreat up in the clouds
Here at spas+beyond we are celebrating India's most colourful festival, Holi, with a series of blogs on the divine retreat Ananda in the Himalayas, the place to learn new detox skills and life truths.
Perched on its lofty hill above Rishikesh, retreating at Ananda had long been a dream of mine – a dream of Ayurvedic treatments and Indian cuisine within the atmosphere of a Maharajah's palace.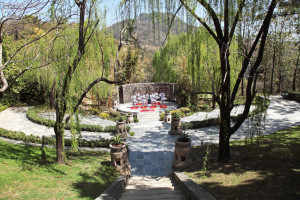 I was exhausted when I arrived, craving silence, stillness and space. The Yogic Detox I was booked for mixed one-on-one yoga lessons, meditation, pranayama and detoxifying spa treatments with the kind of above-and-beyond service Ananda's caring staff unhesitatingly offered. I was only too happy to hand over all responsibility for my life for the next six days.
Dosha consultation
First up on the agenda was my consultation with the Ayurvedic doctor. His questions ranged from interesting to extremely personal, eventually  revealing me to be vata-pitta. Vata airy, a flibbertigibbet, while pitta fiery, intense and volatile. I needed grounding and nurturing, calming and soothing. I needed a slow pace of life, with warming foods and plenty of sleep. I needed an earth mother.
Healing food
Core to a stay at Ananda are the meals in their beautiful restaurant. I headed straight for the terrace at every opportunity, always greeted by name by the charming wait staff. The menu depicts the best choices for each dosha, with Indian (my favourite, always) or international options. Breakfast was a buffet of grains, sprouts, veggies, nuts, seeds, warm foods and the best flapjacks I've had since my grandmother made them for me back in England. Lunch and dinner were multiple course affairs, starting with health drinks according to your dosha. And after a chat with the Executive Chef you'll be invited to order off-menu; I recommend the kedgeree.
Holistic days
Physically, nine-hour sleeps, treatments that spanned massages, facials, and the most caring foot massage of my life from contrastingly macho therapist Noble, all helped nurse me back to health. And the one-on-one yoga in the Music Pavilion with the wonderful Deepti, my earth mother incarnate, and regular meditation, restored my energy levels like magic.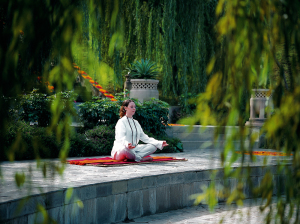 During my yoga classes Deepti would sweetly chant, "Check me out," as she demonstrated a pose. Then, "Ha!" when I got it right. On day three I joined the pre-breakfast communal class on the roof of the palace overlooking the Sal Forest. And later in the week Deepti helped me experience jal neti (nasal irrigation – see next blog) and kunjal kriya (purging by vomiting – see next blog), for the first time.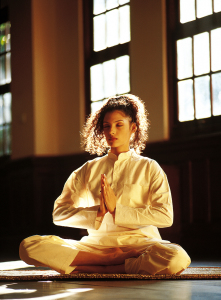 Mentally, while I had promised myself I'd take these days to put life into perspective, I was unable to even open my laptop until the fourth day. I wore the Ananda uniform of kurta top and trousers, and spent time napping, wandering the grounds or curled up on a sofa in the palace, reading a book about its history. The deep sleeps, the beautifully guided meditations and the tranquil countryside were balm to my mind.
Life lessons
To my soul too… The warm and generous service restored my faith in human nature. Vedanta lessons (veda means knowledge, anta end, and together they could be very roughly translated into 'Indian life lessons') came courtesy of the readable Vedanta Treatise by A. Parthasarathy (aka Enlightenment 101 – see next blog), and my chats with their in-house vedanta doctor. Central was Parthasarathy's call to love your work. Currently not hard to do but back in a grey, dreary city, less easy. Those, and the goosebumpingly harmonious chanting of Simi and Ramisha before my Abhyanga treatments, fed my spirit. I looked out over the twisting Ganges by day, twinkling lights of Rishikesh by night, and savoured every moment.
Rishikesh magic
If the retreat was the bread and butter of my holistic healing, the jam was the trip down the hairpin road to Rishikesh for Pujya Swamiji's Ganga Aarti, a Hindu ritual on the banks of The Ganges as the sun set. Saffron-robed students of Swamiji's Parmarth Niketan Ashram, devotees and tourists gathered to be borne up by his mesmerising chanting. After the sun went down and dusk turned to night, the chanting reached its crescendo, when lamps were lit and passed reverently around. Ankle deep in the sacred waters of Mother Ganges, I absorbed the sounds and sensations of tangible spirituality.
I don't believe there can be a single guest who leaves Ananda without wistfully wishing they could stay longer. Much longer. I experienced a peaceful life of holistic healing, spectacular nature and genuinely caring, warm-hearted staff and would jump at the chance of returning… Thank you for putting life back into peace and perspective Ananda!