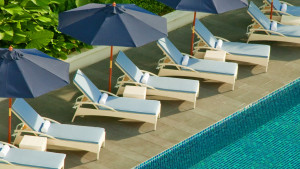 Singapore has Raffles, Shanghai The Peace Hotel, Hanoi The Metropolitan, and now KL has The Majestic. Evoking an era of tea dances and jazz bands, even the spa brings history into play.
If time travel were possible I would love to experience Asia a hundred years ago. For expats lucky enough to have lived there, British Malaya at the turn of the century was a golden age of tropical hedonism.
Just celebrating its first year anniversary, The Majestic brings time travel as close as it can get. The 1930s former hotel, turned national art gallery, turned abandoned icon took hotel group YTL seven years to restore, with the old wing presenting as an evocative home-from-home of art nouveau style suites, lion claw tubs and orchid conservatory, all bathed in the sound of retro piano tunes.
During a recent stay, a short walk took my BF and me to the Spa Village for the Malaya Golden Chersonese treatment. Aptly named after explorer Isabella Lucy Bird's book The Golden Chersonese narrating her travels in 1870s and 80s Malaysia, the pages of which are as redolent of exotic fruit and flowers and seductive spices as our treatment was to be.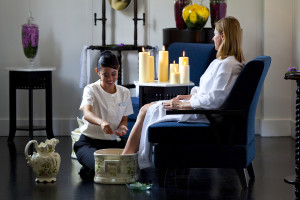 Transformed into total tranquility with a hint of art nouveau, we sipped Pimms in the airy reception on the ground floor (formerly the hotel's garage), before heading to separate change rooms and emerging in comfy robes. Sinking into planter chairs upstairs we stuck our feet into washbowls for a lavender scrub to cleanse the feet and ground the psyche.
I had ignored the rather nappy-like disposable undies in my locker, but the BF had valiantly tried to get into his, fessing up during the foot wash that he didn't think he had got it quite right. As we disrobed to climb onto the treatment beds, the therapists waiting outside must have heard the guffaws of laughter. He'd managed to put one foot through the waist part of the undies and ended up with half a thong, one rather fuzzy ass cheek bared for all to see.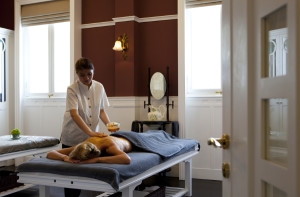 The following, delightful hair masque of banana and coconut oil, and body scrub of papaya and coconut for me, cinnamon, rosemary, mint and sage for him, were punctuated by chuckles as I kept rewinding the one-cheek-in, one-cheek-out look. Post shower I jumped in the tub, modestly wearing a sarong, and he backed up, half-and-half undies first, into the steam box, before we giggled our way through the finishing massage.
Spa Villages by YTL bring history, culture and story-telling (as well as unintentional entertainment) into the spa, and here the art nouveau interiors influenced by Charles Rennie Mackintosh and the reference to Bird's memoirs created the perfect backdrop for a memorable treatment, and the perfect contrast to an all-too-memorable ass cheek.