long-haul recovery perfection in the middle east
It's my belief that luxury is… Well, between two long-haul flights in cattle, absolute luxury is space, peace, unrushed TLC and being able to lie absolutely flat between cool, white sheets.
I'm a big fan of flying indirect. Touching down in a country for anything from a handful of hours to a handful of days gives you time to experience another culture. And between Hong Kong and South Africa, before I caught up with friends in Doha, I stopped in at the Six Senses Spa at Sharq Village & Spa by The Ritz-Carlton, where the spa team turned the beginning of a 20-hour Qatar Airways transit in Doha into long-haul recovery perfection.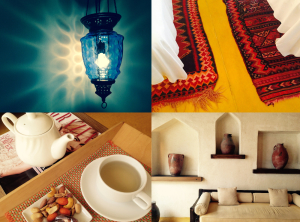 A ten-minute taxi ride from the airport, the hotel and spa epitomize an old fort village from the outside, while inside the spa complex is a maze of lantern-lit, stone-flagged, vase-decorated and arch-doorwayed corridors, hydro areas, treatment rooms and villas. Treatment beds sit on their own Persian rugs and there are pale blue pools, marble-slabbed hammams and inviting sofas throughout. Even the change room has lockers made from old ornate wooden doors. As well as a gym and yoga studio there's also a prayer room, and while it felt like a cultural no-no to take my infidel self in there, I couldn't help but think, what a beautiful idea for a spa.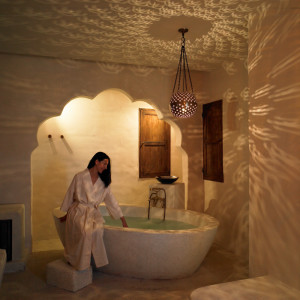 Instead I started off with a delicious half hour in devotion to the power of water, steaming, sauna-ing, hot and cold bathing. I felt the heat seep into the core of my body, soothing my skin, relaxing muscles and quieting my mind as it went. So cleansing. So restoring. So calming. Unless you're hopping from a gaspingly cold cool pool to a hot pool when your blood seems to turn to hot splinters in your veins. I don't know why this happens, but I love it!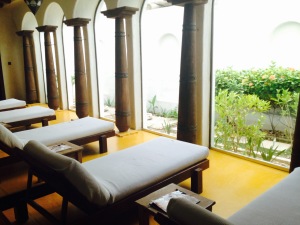 I glided through to the relaxation room already utterly relaxed. The beds are aligned to gaze outside through the room-length window and I spent time basking in the sunlight until my therapist Miyona picked me up. Balinese, she instantly made me feel at home and showed me to a huge single room.
The sheer space in this spa got me thinking about the meaning of luxury. People say that time and personalized experiences are the new luxuries. I have more than enough time during this layover, so for me, right now, luxury is not only true downtime but the physical space to spiritually unwind within it too.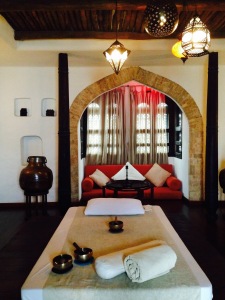 As I settled between the cool white sheets and felt the first pressure of Miyona's hands, my body reminded me how long it had been since my last massage. So the power of touch, also, was luxury.
Alternating between absolutely perfect pressure for lulling my muscles into relaxation and that slightly uncomfortable but highly therapeutic deep pressure when you know it's ironing out strains and knots, Miyona had the combination just right. It was the kind of massage you just don't want to end, and your arm or leg or back feels bereft when she moves on. It was that good.
Then the facial. Using organic Amala products, applied with gentle, skillful hands and wiped away with quantities of hot, wet towels, she cleansed, scrubbed, analyzed and masked my complexion with a brightening recipe, serum and moisturizer. Way to coax away nine hours of moisture-sucking cabin air, video ogling and tired, gritty eyes. And the head massage, as the mask got to work, was the metaphorical (and biological?) icing on the cake.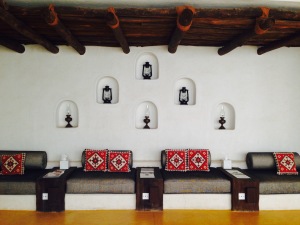 I was led back into the relaxation room where ginger tea, nuts and dates were waiting for me. Reveling in the feeling of absolute relaxation I realized luxury is whatever you don't have enough of. If you live in a tiny flat in a chaotic city, travel cattle and work to deadlines then when space, peace, time and TLC show up they feel luxurious. And at the Six Senses Spa the sheer space is breathtaking, the peace absolute, the TLC beautifully unrushed and the sheets perfectly cool and white.