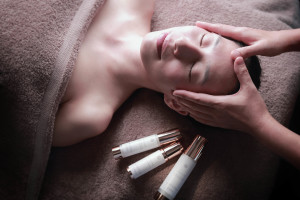 It's an ear-popping, eye-boggling experience to go to The Ritz-Carlton Spa by ESPA at The Ritz-Carlton in Hong Kong – the city looks like Toy Town from the 116th floor.
In fact it's hard to tear yourself away from this spa's incredible view to settle into a treatment. But the ESPA Empire is alive and well here, and new is the ESPA LIFESTAGE facial. In London, Milan, New York, Chicago and now Hong Kong, it's a 90-minute therapeutic pampering with facial massage that digs the LIFESTAGE products deep into the skin.
I could never understand why the change rooms here didn't have a vitality pool, but the steam, sauna and experience shower do their best to make up for it, and then I'm spellbound, on the edge of the relaxation lounge bed, gazing across the harbour to Hong Kong Island.
Once collected by my therapist and installed in my treatment room the view is of the cargo port – fascinating in a different way – but after a foot wash, leg scrub and consultation, I'm no longer thinking of Hong Kong. I choose two fragrances from two different kinds of products and then phase one of the facial starts.
No less than three cleansings. And between them I have a UV light shone on my face. Huge dark circles are great for pandas – on my face not so much, and are surrounded by far more freckles than I'm used to seeing. A little scary. But not all bad news – Sharon talks me through my skin. Lines: forehead, between the eyes and smile lines. Pigmentation: yes. Texture: smooth.
What followed is a series of gentle massages that I was expecting to be far firmer. More lymphatic than muscle smoothing, they nearly konk me out. I just managed to hang on to consciousness in order to feel the soothing mask, then the eye and face serums and finally the moisturiser being patted on at the end of the treatment.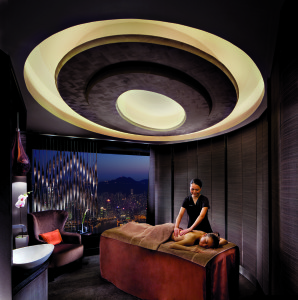 I'm up, showed back to the relaxation room, and immediately offered tea and a dessert from the mini fridge. Go for the yoghurt and berries compote – delicious. Armed with my phone again (sad but true), I then turned photographer with the dramatic view and my afternoon was complete.
What I loved: The extra TLC. Sharon remembered from our conversation that I feel the cold and added an extra towel without being asked.
The facial started with her gently brushing my hair away from my face all along the hairline and back again, in a soothing, meditative way.
And the eye make-up remover application included delightful pressure point work.
Everyone who gets this facial goes home with a cute box of sample-sized products.
Not so great: none of the fragrances I chose between really floated my boat. They were pleasant but seemed quite masculine.
I would have loved my feet to have been scrubbed, rather than just my calves.
And finally, I left with two red patches under my eyes. I am not sure what caused this sensitivity but Sharon told me not to worry. So I didn't. And a few hours later they had calmed down. Natural products, but powerful none-the-less.