In all my 18 years in Hong Kong, a few weeks ago was the first time I walked through town with this label in the crook of my arm. Am I finally a Hong Kong girl?
No… I hadn't just blown a few month's wages on something bling. I had been invited to the launch of Dior's new spa treatments at The Landmark Mandarin Oriental Hong Kong. A small, select group of stylish women (and I) gathered to hear about Dior Prestige's Le Nectar and La Creme.
Fifteen years of research has resulted in the perfect Dior Rose de Granville, a white rose that coincidentally grows near Christian Dior's childhood home. In Dior's organic garden in the Loire Valley, his green-fingered magicians married (grafted) the rose seven times to come up with what I think should be called the… Super Rose!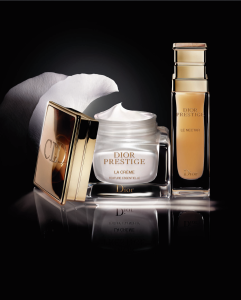 Super Rose de Granville has elevated levels of regeneration and powers of cellular reconstruction, and the resulting serum and cream not only help fight the signs of ageing but also the micro-inflammation that's not visible to the naked eye. Le Nectar tightens, plumps and aids elasticity while La Creme is described as the skin's 'overcoat', locking the serum's nourishment into the skin like a cocoon. And for anyone with enough time the massage choreography using the applicator will help contour and shape the face.
I had a glimpse of what the facial might feel and smell like as wonderful long-term therapist Ruby gave my hands a treatment. The nectar goes on like water, a beautiful drink for the skin, and the cream is silky smooth. Together the fragrance they create, subtle but unmistakably rose, is sophisticated and seductive. And The Oriental Spa is the first hotel spa in Asia to offer the Dior Prestige Treatment…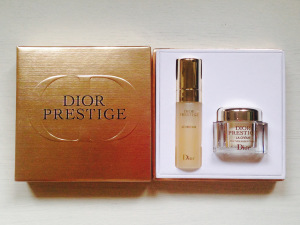 The giveaway samples are without a doubt the sexiest handbag-size, skin rescue team ever. While I love that they are good for my skin, they had me at their textures and fragrances. I've been using them molecule by molecule trying to make sure they last as long as possible. However, I really need a new handbag to do them justice.
For details and to book in for an extraordinary, luxurious and fragrant Dior Prestige Treatment (90 minutes, HKD1,180, plus HKD580 for heat and water experience) contact The Oriental Spa at The Landmark Mandarin Oriental.